JOIN THE WINTER SCHOOL THIS YEAR

Experience an unforgettable time in Singapore during your school break this Winter! Similar to our Summer School programme, the TUM Asia Winter School is designed to be an experiential and enriching program for international students, embracing a mix of academic topics alongside the rich cultural background of Singapore, while tasting a little of TUM Asia's German heritage roots!
"INDUSTRIE 4.0" PROGRAMME
As the world lurches forward into the fourth industrial revolution, there is widespread buzz about the adoption of automation and machine-learning in every aspect of our lives. In this Winter School, find out more about today's Industrie 4.0 topics as well as experience an introduction to Singapore's unique cultural heritage, while picking up hints to Germany and the German language!
KEY TOPICS COVERED
• Introduction to Fourth Industrial Revolution (Industrie 4.0)
• Smart Manufacturing
• Smart Transport Systems
• German Language 101
• Introduction to Singapore (Cultural Immersion)
WHO'S INVITED?
All undergraduate (Bachelor) students currently enrolled into a recognized university are eligible to participate in the Summer School.
All classes at the Summer School will be conducted in the English language. Participants should ensure that they are proficient in English (reading and writing) at the university level.
WHEN & WHERE?
1 – 10 December 2019
TUM Asia Campus (Singapore)
510 Dover Road, Level 5, SIT@SP Building, Singapore 139660
HOW MUCH?
SGD $1,850 per participant
This Fee is applicable to one participant per Fee, and the Fee is inclusive of accommodation, classes, and activity costs during the stipulated dates of the Winter School. Airfare, meals, personal leisure activities, public transport fares as well as travel insurance are not included in the Fee.
WHERE IS THE ACCOMMODATION?
MDIS Residences @ Stirling Road
(Subject to change)
DOWNLOAD WINTER SCHOOL BROCHURE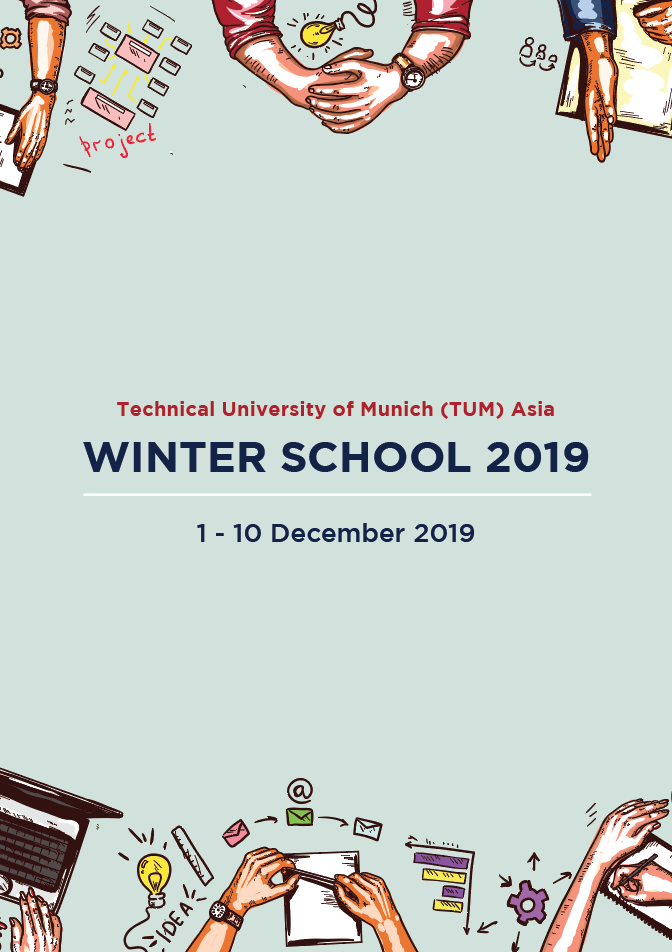 REGISTRATION
Fill out the form below to register. Please take note that this is only a pre-registration for the TUM Asia Winter School. Once we have received your pre-registration information, we will send you the full registration and payment details via the email address provided in our registration form.

Kindly contact us if you have any enquiries by emailing us at events@tum-asia.edu.sg.