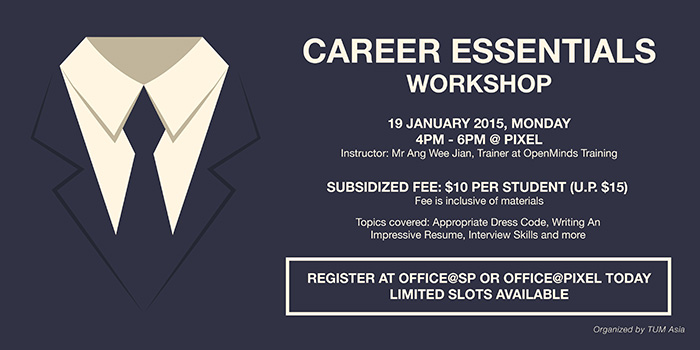 Are you… Clueless about writing a resume that will stand out? Unfamiliar with how to answer interview questions? Unsure what is appropriate to wear for an interview?
TUM Asia is hosting an exclusive Career Essentials Workshop this year and you would not want to miss it! With rising competition in the graduate recruitment market, there is an increasing need for applicants to differentiate themselves when faced with global competition for highly sought-after jobs. The workshop will equip students the knowledge and skills that will help them with their career planning and job search strategies.
This workshop is opened to ALL BSc & MSc TUM Asia students across ALL levels. Step up in your career planning and equip yourselves with the necessary career skills that will go a long way.
CAREER ESSENTIALS WORKSHOP 2015
Date: 19th January 2015 (Monday)
Time: 4 – 6PM
Location: TUM Asia Pixel Campus
Subsidised Fee: $10, inclusive of materials (U.P $15)
Conducted by Mr Ang Wee Jian, an experienced and professional trainer from OpenMinds Training
Registration opens 17 November 2014. Please sign-up at our TUM Asia Office @ SP Campus / Pixel Campus. Registration closes on 16th Jan 2015 (Friday), Limited slots available.
Remember, it is never too early to get a head start.
Brought to you by: TUM Asia Career Services Team