Submitting the correct documents for your application into our Master of Science programme(s) is extremely important. By doing so, it will save you the hassle and cost of posting another set of documents and also give you peace of mind that you have submitted the necessary documents.
Here are three steps you can follow to help you cope with the trickiest part of your hardcopy documents – ensuring you send us authentic documents.
STEP #1: KNOW YOUR DOCUMENTS
First, find out what documents are required of you. A typical set of documents to be submitted for your application requires the following:
Two (2) copies of Official / Provisional Bachelor Degree Certificates
Two (2) copies of Official or Provisional Academic Transcript
Two (2) different recommendation letters from Professors or Employers
One (1) A4 page Letter of Motivation that indicates the reason(s) you are interested in the programme you applied for
One (1) Curriculum Vitae/Resume
Two (2) Passport-size photographs
One (1) Passport Biodata Page photocopy (the page with your personal particulars)
Proof of English Proficiency – TOEFL / IELTS / CAE (Only required for applicants whose native tongue or medium of instruction from previous studies is not in English)
Requirements for TOEFL: Minimum 605 for the Paper-Based test / 234 for the Computer-Based test / 88 for the Internet-Based Test
Requirements for IELTS: Overall IELTS results of at least 6.5
Requirements for CAE (Certificate of Advanced English): Grade A, B or C
STEP #2: GETTING THE DOCUMENTS
Now that you have the checklist of documents you are required to submit, go get 'em! Here are some tips on obtaining your documents.
Degree Certificates and Academic Transcripts (Official or Provisional)
Official Certificates and Transcripts are usually obtained after you have graduated or successfully completed the programme. Usually this is three to six months after you complete your programme. In the meanwhile, the university will issue Provisional Certificates and Transcripts.
For those who are in their Final-year of studies while applying for our programmes: You can submit a Bona-fide Certificate (in place of the degree certificate) that is proof of your enrollment in your Bachelor degree and indicates estimated date of completion. This letter can also include proof that your Bachelor degree is studied in English (excludes you from submitting TOEFL, IELTS or CAE). In place of academic transcripts, final year students can submit Semester Mark Sheets, up to the 6th or 7th semester. Some universities also provideProvisional Academic Transcripts for final year students.
STEP #3: GETTING THE DOCUMENTS AUTHENTICATED
Most students will be applying for entry into more than one university. As such, you will not have sufficient original documents to be sent to the universities you are applying to. TUM also does not accept the original copy of your Official Degree Certificate as you would only have ONE copy that you need to keep for your personal records.
Therefore, you would need to follow the correct method of submitting Certified True Copies or Notarized copies of your Degree Certificates, Transcripts and Letters of Recommendation.
Certified True Copies or Notarization of your Degree Certificates and Transcripts
For the correct method of submitting Certified True Copies or Notarized copies: You need to have the colored original stamps issued by any of the following authorities; universities, embassies, authorities and notaries on your photocopied documents. We will not accept any photocopied stamps, the stamps must be original and inked. Please see sample here: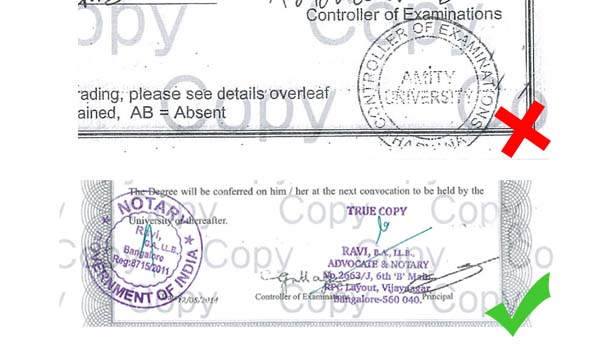 Recommendation Letters
Your recommendation letters must not come from a family member or relative, but it is required to be written and signed by a credible source, such as a professor, internship supervisor or your employer. These letters must be submitted in hardcopy and must be personally stamped or signed by the recommender. No photocopied stamp or signature is accepted, and no letters sent to us by email are accepted as well.
Now that you are all ready, remember to complete your application as soon as possible so you can eagerly await the news of your application! For more information regarding application into our Master of Science programmes, please visit our Admissions booth.