"ENGINEER YOUR SMART FACTORY BLUEPRINT"
3-Day Workshop, 7-Day Overseas Trip, 12-Month Mentorship
Top Learning Outcomes:
• Identify company's maturity level, readiness, and focus areas
• Employ design thinking business canvas in industrial transformation
• Evaluate and incorporate model or trial-solutions
• Experience & understand Industry 4.0 best-practices at companies in Germany
• Exchange knowledge and feedback through networking and discussion opportunities
• Incorporate transformation strategies into Smart Factory Blueprint
• Gain insight from sessions conducted by domain experts & knowledge partners
• Application of transformation initiatives through a 12-month mentorship programme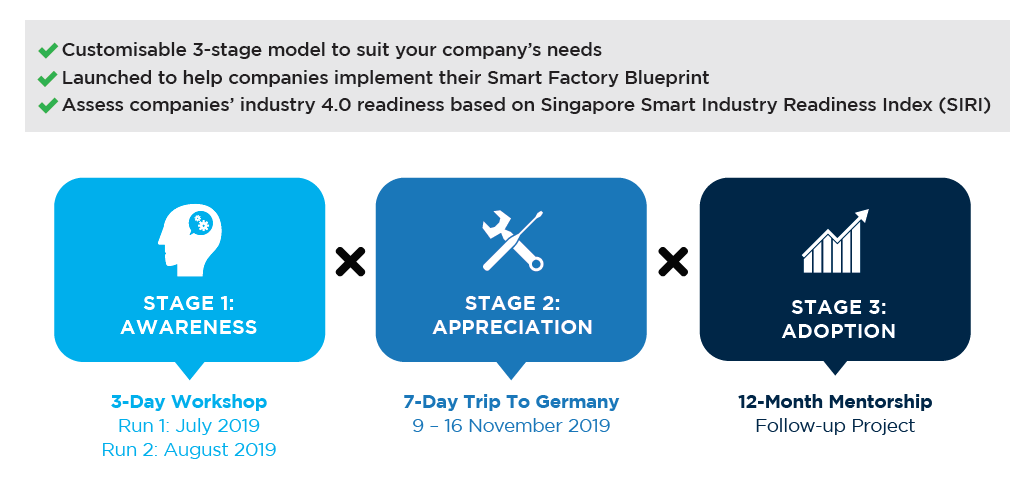 PROGRAMME OVERVIEW 
Developed by Technical University of Munich (TUM) Asia and in partnership with TÜV SÜD Asia Pacific – COE Digital Service, the LEARN Programme adopts a 3-stage model of change to help companies engineer and implement their smart factory transformation blueprint based on the Singapore Smart Industry Readiness Index (SIRI) and the Prioritisation Matrix (PM). It aims to help companies progress from a state of awareness, to appreciation and eventual adoption of a holistic transformation strategy that addresses the core elements of Industry 4.0 (Process, Technology and Organisation).
PROGRAMME BENEFITS
Tailored Approach For Organisational Needs
Companies will benefit from the facilitated knowledge exchange where valuable insights and strategies are shared, refined and redesigned to suit their organisations' needs.
Peer Mentoring By Industry Experts
The academic-industry peer mentoring eco-system consists of domain experts, knowledge partners and project team members from different industries offering multi-disciplinary perspectives.
Follow-up Project Mentorship
This programme includes a follow-up consultancy and 12-month project mentorship to help companies implement their smart factory blueprint.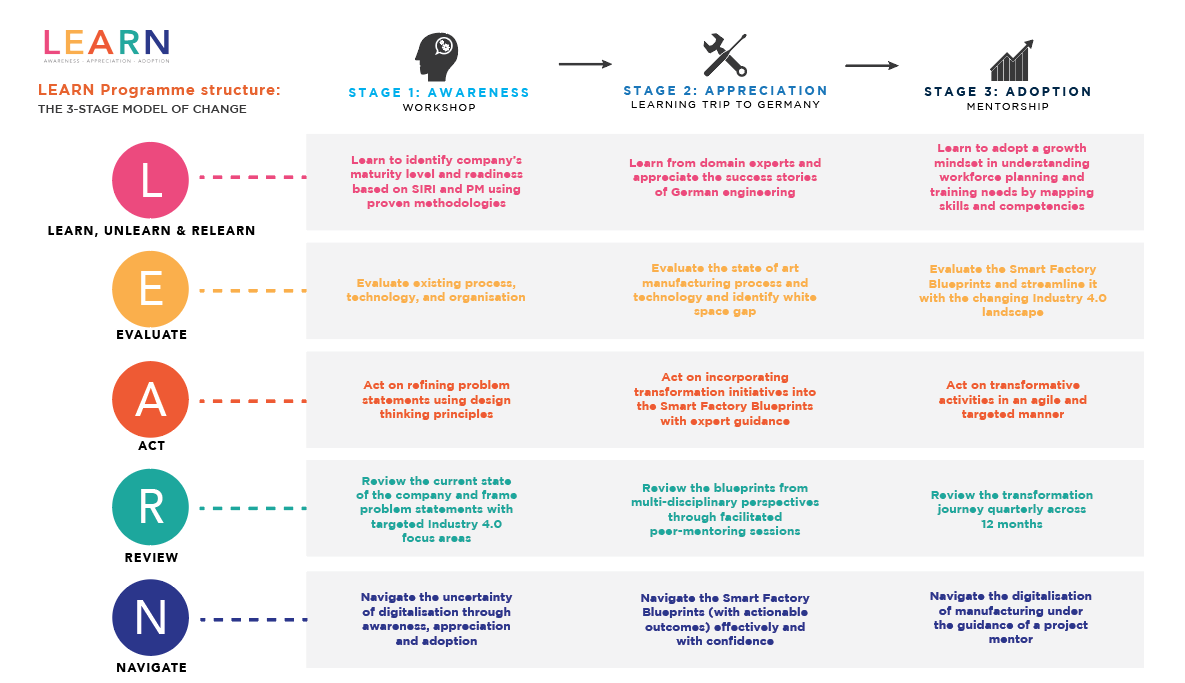 PROGRAMME FEES & FUNDING SUPPORT
STAGE 1: AWARENESS (3-Day Workshop)
Run 1: July 2019
Run 2: August 2019
$2,400 per pax (before funding support and 7% GST)
Funding Support: Up to 70% – 90% Programme Fees support by SkillsFuture Singapore
STAGE 2: APPRECIATION
9 – 16 November 2019
TBC (before funding support and 7% GST)
Funding Support: Enterprise Development Grant support by Enterprise Singapore
STAGE 3: ADOPTION
Follow-up Mentorship Project
Project-based fees
Funding Support: Enterprise Development Grant support by Enterprise Singapore
WHO SHOULD ATTEND
Targeted at, but not limited to manufacturing (i.e. automation, electrical/ electronic and mechatronics), fast-moving consumer goods (FMCG), machinery and systems, and precision engineering sectors
Recommended team size and composition (up to 4 per company):
- 1 x Senior Management
- 1 x Operations
- 1 x Supply Chain
- 1 x Engineering / Human Resource
COURSE ENROLMENT
Interested companies must be a locally registered or incorporated entity in Singapore
Suitable for both small and medium-sized enterprise or large local enterprise
Companies must submit details of their organisation, main customer base and overview of current business activities
Successfully enrolled individuals and companies must complete and provide all the necessary enrolment documents, accepting all terms and conditions of the programme.
PROGRAMME BROCHURE
Download our brochure here.